WELCOME TO KAYENTA CHAPTER ADMINISTRATION WEBSITE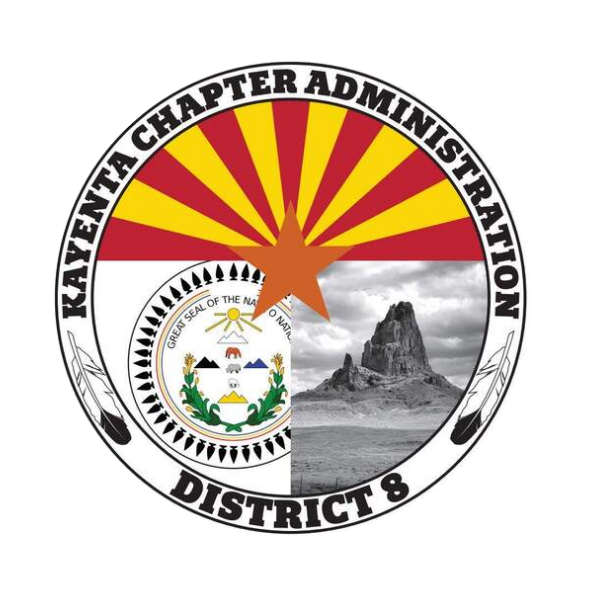 Kayenta Chapter Officials & Administrative Staff
Chapter President
Dalton Singer
Vice-President 
Sally Chee
Secretary/Treasurer
Genevieve Benally
Chapter Manager
VACANT
Administrative Assistant
Pearl Begay
Admin. Assistant Aide
Vacant
Kayenta Chapter Meeting, June 21, 2023 @ 5:30pm. Call In #: 1 503-917-5597 Pin: 667 682 917‬# Google Mtg ID: yun-qbnc-awc
Kayenta, Arizona
Kayenta (Navajo: Tó Dínéeshzhee') is a U.S. census-designated place (CDP) which is part of the Navajo Nation and is in Navajo County, Arizona. The population was 5,189 at the 2010 census. Kayenta is located 25 miles (40 km) south of Monument Valley and contains a number of hotels and motels which service visitors to Monument Valley. Like other places on the Navajo Nation, it is illegal to serve alcohol. Arizona does not observe Daylight Time; however, the Navajo reservation does.
Kayenta Township is the only municipal-style government on the Navajo Nation. It is regarded as a political sub-division of the Navajo Nation. It is managed by a five-member elected town board, which hires the township manager.
Kayenta is the name for the Chapter, as well as the township. Kayenta Chapter (a political division within the Navajo Nation that is analogous to a county within a state) encompasses land in both Utah and Arizona. Thus, the Navajo Nation's census figures for Kayenta Chapter are significantly different from those of Kayenta proper.
Kayenta is located at 36°42′43″N 110°15′00″W (36.7118, -110.2505), at an elevation of 5,700 feet, (1,738 m).
Demographics
As of the census of 2010, there were 5,189 people. The population density was 393.1 people per square mile (151.3/km2) with a total of 1,375 housing units. The racial makeup of the CDP was 92.27% Native American, 4.56% White, 0.25% Black or African American, 0.08% Asian, 0.02% Pacific Islander, 0.31% from other races, and 2.51% from two or more races. 1.97% of the population were Hispanic or Latino of any race.
In the CDP, the population was spread out, with 38.9% under the age of 18, 11.4% from 18 to 24, 11.9% from 25 to 34, 33.2% from 35 to 64, and 4.7% who were 65 years of age or older. The median age was 22 years. For every 100 females, there were 90.7 males.
Federal & State Government Services
United States Postal Service 1-800-275-8777
Kayenta Justice Court (Navajo County) (928) 697-3522
AZ Department of Economic Security (855) 432-7587
Arizona Dept. of Transportation (928) 697-3558
Navajo Nation Offices
Kayenta Chapter House (1 (928) 882-1110
Kayenta Township (928) 697-8419
Social Services (928) 697-5530
Senior Center (928) 697-5577
Navajo Housing Authority (928) 697-3100
Workforce Department (928) 697-5666
N.T.U.A. (800) 528-5011
Behavioral Health (928) 697-5570
NN Self Reliance (928) 697-3218
Kayenta Public Safety
Kayenta NN Police Deparment (928) 697-5600
Kayenta Health Center (928) 697-4000
Kayenta Justice Center (928) 697-5601
Navajo Criminal Investigation (928) 697-5511
Navajo Nation Probation & Parole (928) 697-5500
Kayenta Navajo Nation Courthouse (928) 697-5546
Kayenta EMS Training Center (928) 697-5720
Events
Kayenta Field Day, a family event of sack races, skateboard competitions, bouncy houses, eating competitions and other various events that takes place normally at the end of June.
Kayenta Fourth of July Rodeo is an annual multi-day event taking place from July 1–4. 
Kayenta 4th of July Fireworks display, event takes place at the end of the Rodeo on July 4th every year.
Kayenta 4th of July Pow Wow and Song-n-Dance, these events usually take place at MVHS Nash Center and Beets Gymnasium.
Education
Kayenta Unified School District
K.U.S.D  Administration Office (928) 697-3251

Kayenta-Monument Valley High School (9th-12th)

(928) 697-2100

Kayenta Middle School (5th-8th)

(928) 697-2200

Kayenta Elementary School (1st-4th)

(928) 697-2300

Early Childhood Education (Preschool-Kindergarten)

(928) 697-2461

KUSD Transportation Department 

(928) 697-2122

MVHS Agri-Science Center-Veterinary Center (928) 697-2175
There are several schools that serve the community. Kayenta Elementary School, Kayenta Middle School, and Monument Valley High School are the public schools. Kayenta Community School, part of the Bureau of Indian Affairs, is a boarding school serving both day and dorm students.
Amenities
Restaurants
Kayenta is the home of several sit down and fast food restaurants, most of which are located at the junction between the 160 and the 163.
Fast food restuarant:
Burger King

McDonalds

Taco Bell

Church's Chicken

Pizza Edge

Sonic Drive-In

Golden Rice Bowl (currently closed)

Subway
Restuarants:
Amigo's Cafe

Blue Coffee Pot

Wagon Wheel Restuarant (located inside Kayenta-MV Inn)

Reuben Heflin Restaurant (located inside Kayenta Hampton Inn)
Groceries and shopping
Kayenta has one shopping center located in town (Kayenta Navajo Nation Shopping Center Inc.) which is home to several stores, Bank, Theater and fast food restaurants.
Bashas Dine Market Place

Navajo Westerners Ace Hardware

Black Mesa Twin Cinema

Wells Fargo Bank

H&R Block

CellularOne 

Video Plus

Beauty Way Salon

McDonalds

Taco Bell

Pizza Edge

Subway

Laundromat

Monument Valley Car Wash
Kayenta Shopping Center is the only large shopping center within 50 mile radius. Kayenta plays a vital role is providing service to many small surrounding communities. The nearest Walmart and Sam's club is about 77-130 miles away in the communities of Page, Flagstaff Arizona, Farmington and Gallup New Mexico.
Other Stores/Services
NAPA Autoparts (928) 697-3040
Jo D's Laundry Ph# NA
Navajo Arts n Crafts (928) 697-8622
Wells Fargo Bank (928) 697-3492
Chief Propane (928) 697-3763
Ferellgas (928) 697-3411
Draper Glass (928) 697-3633
EZ Rent LLC (928) 697-8328
Kayenta Transfer Station (928) 697-8451
Gas Stations 
Speedway (928) 697-3525
Alon (928) 697-3024
Chevron (928) 697-3425
Lodging
Kayenta has three hotels serving traveler visiting our community. Two of the Hotels are located on US Hwy 160 and the other Hotel is located 1 mile north of US Hwy junction 160/163.
Kayenta-Monument Valley Inn (928) 697-3221
Kayenta Hampton Inn (928) 697-3170
Kayenta Wetherill Inn (928) 697-3231
Local facilities
Kayenta Community Recreation Park:
Covered Gazebo

Skate Park

Childrens Playground

Basketball court

1 Baseball field

1 Softball field

Walking trail with stretching bar stops
Kayenta Fitness Center- Free weights and cardio machines.
Kayenta Unified School District (Home of the MUSTANGS) has state of the art fitness/weight room and home to 5 gyms where normally it open to Open Gym (Basketball/Volleyball), Zumba and other events such as Bazaars.
On the east side of the community is a paved landing strip that can handle small single engine and twin engine aircraft used for air tours and air ambulance services.
Churches
Kayenta is home to several Churches:
The Church of Jesus Christ of Latter Day Saints (LDS)

Kayenta Bible Church

Kayenta Presbyterian Church

Our Lady of Gaudalupe Catholic Church

Kayenta Potter's House

Living Word Assembly of God

Kingdom Hall of Jehovah's Witnesses

First Baptist Church

Harvest Time Church

Kayenta Pentecostal Church of God

Kayenta Church of Christ

Seventh-Day Aventist Church and Community Services
Many Church's provide great service to our community members, especially our elderly and children which we are grateful for.
Miscellaneous
In terms of banking, there is a Wells Fargo located in Kayenta, as well as a Western Union, and an H&R Block. There is a U.S. post office in Kayenta. There is one movie rental location, a NAPA auto and truck parts store, and an Urban Trendz haircut place.